As far as I know, Ellie was the last series regular actor cast in Stargate Origins. When I went in to be fitted for wardrobe, I saw all the cast pictures on the production office wall, but one picture was notably missing. I don't what the delay was and I don't care. I just know that in casting Ellie Gall as Catherine Langford, they got it right.
Ellie Gall. Funny. Spirited. Outgoing. Fiery. A lot like Catherine Langford.
Just watch any of her behind the scenes moments and you'll see. I particularly love it when she fires her pistol, but then still says "bang" afterwards. Ahahaha! I love it!
Australian Accent
If you didn't know, Ellie is from Australia; the big giveaway being her unmistakable down-under accent. But the crazy thing is, her American accent is amazing. As an actor, I have to do accents all the time. I get cast in film and TV a lot as Brits, Germans, and Russians, with countless other accents and dialects needed in audiobooks and voice overs. But, it never fails to amaze me when someone can so completely fool my ear with a perfect American accent.
So sometimes on set, Ellie's speaking in her American accent… and I totally forget she's Australian. And then she'll go back to her regular voice, and I'm like… "oh, yeah! I forgot!" It's a real testament to her ability.
On Set
On one of our first days shooting together, the script called me to grab Ellie by the arms, and push her forward with quite a bit of force. I'm a big guy, and certainly a lot bigger than Ellie. When we were rehearsing, I was careful to warn her I was about to start, and taking it slow. She said, "It's ok. Just grab me, and do what you need to do."
"Just like Catherine Langford," I thought. Kind of awesome.
Side note: Right before the camera was ready to roll, Lisa, from wardrobe, pointed out that Ellie's light yellow sleeves on her blouse were getting dirty from all the man-handling. Makeup had put dirt on our hands since we were working in a dirty old warehouse and it looked realistic.
I was told to be careful not to get anymore dirt on her sleeves. What?! How am I supposed do that? They literally just put a new layer of dirt on my hands! So I checked to make sure the dirt was 'baked on' and wouldn't come off. It was totally set, and not rubbing off anywhere. So where was the dirt coming from? Just as I looked up, wondering, the truly funny Derek Chariton watched me make the discovery. He gave me a sly conspiratorial grin and a shrug. It was him! And before either of us could say anything, the camera was rolling and we were off, dirty hands an all.
So, Kit, Laura, and Lisa in wardrobe: I'm 99% sure the dirt on Ellie's sleeves was from Derek.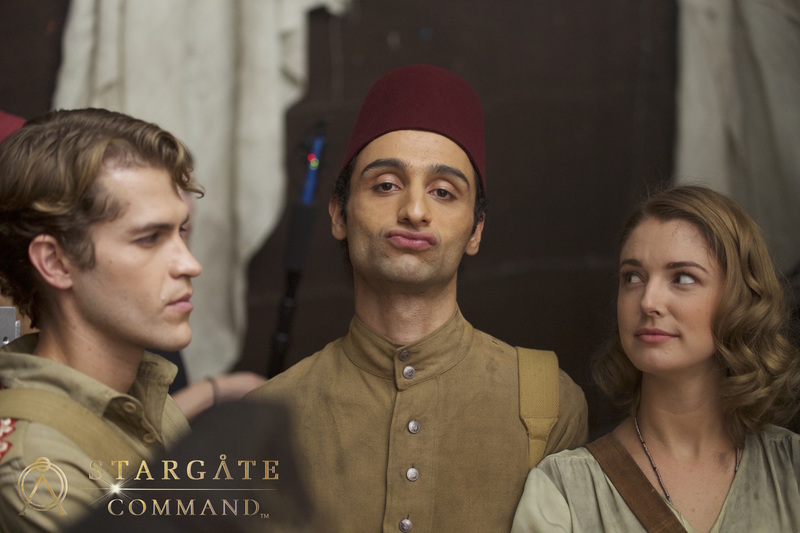 Lunch with Ellie
So about half way into each work day, the company would break for lunch. That means we call it lunch if it's 5pm. One shoot day we even had "lunch" at 11pm. Crazy, right?!
Several times over the duration of the shoot, I found myself sitting with Ellie and other actors from the show. I'm telling you, she's just fun to be around. Fun to talk to. Fun to listen to her tell stories about home, her parents, and her brother.
Plus there was always the interesting conversation piece of what exactly it was she was eating from her Tupperware bowl. It always looked healthy. And therefore, when she offered to share, a bit easier to decline.
Ellie just has a way of captivating your attention. Not in any kind of 'in your face' way; she's just interesting.
Comic Con: Ellie's Wave
At Stan Lee's LA Comic Con, they revealed the 1st Stargate Origins Behind the Scenes Teaser. It was at the Stargate Past and Present panel with Connor Trinneer, Chris Judge, and Ellie.
Hammered by LA traffic, and the 45 minutes to find parking, I was late.
As I shuffled in, the panel was nearing the end. Audience was rapt and laughing at Connor and Ellie's charm. I moved quickly through the aisle and found a seat in the middle of the theater, trying not to call attention to how late I was.
Somehow Ellie saw me walking in through the aisle surrounded by rapt fans. I was pretty far back in the auditorium, but Ellie gave me a huge smile and a wave. In context, it was subtle, but noticeable enough that all the fans around me turned around to see who she was waving at. Ahahahahaha! Busted! So with a small audience of my own now, I waved back.
We had only worked together a few days and already she knew me and could pull me out of the crowd as one of her fellow cast mates.
To me, this characterizes Ellie so well. She was fully engaged in the panel. But somehow she still had a moment to send my way. And it made me feel kind of awesome.
Wrap Party Cookies
Filming complete, we had a wrap party in Hollywood on Melrose. It was wonderful to see everyone again a few days after shooting finished.
There was food, music, and a slideshow of behind the scenes photos for the cast and crew to see.
Towards the end of the evening, I noticed Ellie by herself in a booth, pulling something out of a bag and writing a note. After a few moments, she approached the now empty food table, and placed 3 or 4 packages of Australian cookies. Tim Tams. And her note. Thankfully, Kieran from Stargate Command got a picture of this ultimate display of Ellie's character: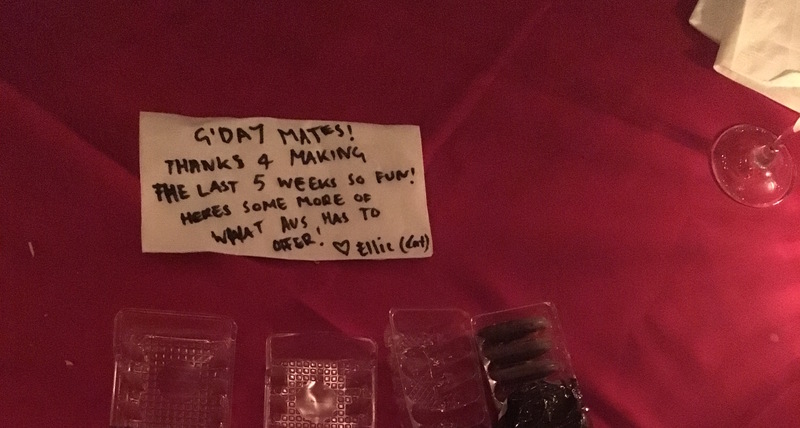 Before long, cast and crew were milling over to the table and eating these cookies and thanking Ellie. And what a smile on her face! She was so happy to be able to share with her new friends something from back home. To give us a new experience…The Tim Tam experience. Bam!
Then I start to think…. "Ellie's, like, the lead of this show. And she's bringing us cookies?! That's amazing. I wish I was that cool. Hah. Never mind. I'll never be that cool. But I will take another cookie."
Crunch.
"Hmmm. Suddenly, I do feel a bit cooler."
Ellie Gall, you are awesome. You are a great actor, and a great friend. I can't wait for everyone to see how you light up the screen and drive the Stargate franchise forward with your fiery determination. I truly feel like I am a better actor and and a better person for having worked with you.
See you on the screen!
Lincoln.
PS: When you return from Australia, can you bring me back a package of those mint cookies?